On August 26th it was National Dog Day and I missed it! But I don't actually need a dedicated day to have a reason spoiling my pooch. The organization has many suggestions on how to celebrate this Doggy Day, but in this post I would like to focus on real gifts to appreciate your best friend and fury family member.

1. Pick-up a K9 sport
Regular exercise is doing any body good, but before you start, remember that your dog needs to warm up to avoid any injuries! Picking up a sport with your dog, not only keeps them fit, but helps them to enjoy a fulfilling lifestyle, while embracing their unique talents. Make it a bonding and fun experience, because then you are more likely to continue exercising. Different breeds and temperaments require different types and degrees of exercise. There are over 26 canine related sports to choose from, such as Agility Training, Nose Work, Dock Diving, Dog Pulling Sports or Lure Chasing to name just a few. The whole Summer Issue of the Atlanta Pet Life Magazine is dedicated to sport – click on the Cover to read more.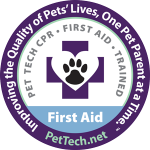 2. Take a pet first aid class
According to the American Animal Hospital Association, one out of five pets would survive if pet parents would apply first aid techniques in an emergency. When life threatening accidents happen, minutes, even seconds count! By attending a Pet Tech First Aid Class, you increase the chances of becoming a true lifesaver for your pet. It is the best gift that we can give our beloved pets! Don't wait until accidents happen and sign up for one of my classes here.
3. Bone broth – a tasty health drink
A homemade bone broth is not only a healthy mineral/vitamin drink for your dog, but it also helps saving you money! In my kitchen no bones get tossed away. I collect different bones we eat in a zip log bag in the freezer. Once I have enough, I simply cover the bones with filtered water and let them cook in the slow cooker for 20 hours. After some cooling time, I drain the broth through a colander and separate the meat from the bones with my fingers, to toss it back into the broth. Disregard the bones and make sure to not feed your dog cooked bones ever. As the calcium has leached out, any cooked bone will splinter and brittle, possibly hurting your dog's digestion tract. Your dog will absolutely love you for this special treat! Serve it cold or warm in the winter months. A broth is also great if your dog has an upset stomach or cannot eat solid foods like after a surgery.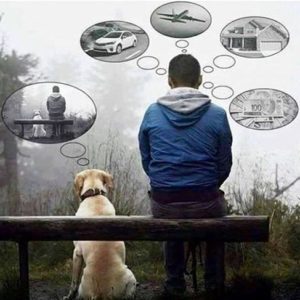 4. Turn off your cell phone – be in the moment
Unfortunately, I see it more often than not, people walking their dogs, while talking on the phone, listening to music or engaging with their social media networks. Life gets busy and we try to multitask wherever we can, thinking that we will have eventually more time. I can relate to it and there is certainly a component of addiction. But dogs have a way to remind us that there is no better time than the present to celebrate life. For some walking the dog can be just another chore we have to do, but for your best friend it is the Highlight of the day, because for them you are the world! A walk in nature with your pup can be like a meditation, clearing your thoughts and reducing stress. Our fury family members give us so much. They love us unconditionally and they deserve quality time with us. So turn off your cell phones and be in the moment!
5. Give your dog a healing massage
Anybody who has gotten a massage before, knows how relaxing and therapeutic it can be. Regular massages can also help with anxiety, reduce stress or assist in pain management. There are many wellness options for pets to choose from, but one stood out: Healing Touch for Animals® is an energy based approach to the well-being of your pooch. It restores harmony and balance in the animal's energy system, which benefits the immune system and encourages the natural self-healing powers of the body. Healing Touch for Animals® is the bridge between holistic health care and traditional veterinary medicine. Check out their website to find a practitioner in your area.

6. Socialize at a doggy event
Dogs are very social creatures and need regular interaction with other dogs to romp around and for mental stimulation. There are numerous creative gatherings for dogs out there. In my community once a year they open up the pool for a "Doggy Dip Day". There is even a "Dog Film Festival" and one of the largest dog events "Woofstock" should not be missed! Check out the online Events Calendar of the Atlanta Pet Pages to find out where there are "barks in the park".
To a happy life-time tail wagging
Yours DobieMom